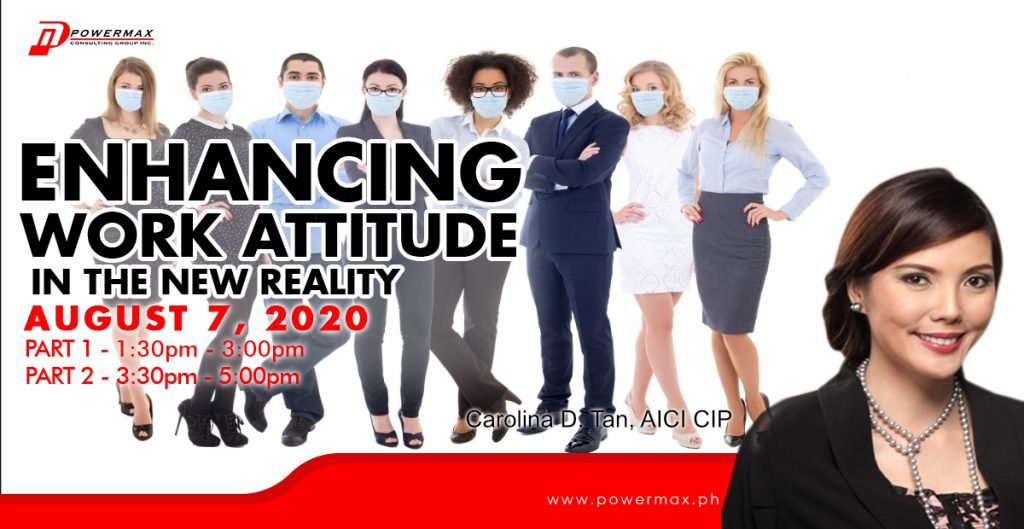 ENHANCING WORK ATTITUDE IN THE NEW REALITY
ENHANCING WORK ATTITUDE IN THE NEW REALITY
August 07, 2020
by: Carolina D. Tan, AICI CIP
Part 1 – 1:30pm – 3:00pm
Part 2 –  03:30pm –   5:00pm

*******************************************************************
Regular Rate           Php 1,499.00 + VAT starting August 1, 2020
Early Bird Rate        Php 1,399.00 + VAT until July 31, 2020
Group Rate              Php 1,299.00 + VAT per pax for 5 or more pax
Inclusive of all the Webinar Sessions and the Digital Certificate
*******************************************************************

PROGRAM OVERVIEW
In this pandemic, your employees' attitude will significantly affect your company's survival and success.  It is not uncommon during this trying period for anxiety and negativity to affect the staff resulting in poor sales performance, below-par quality of work, lower productivity, disengaged personnel, and a high turnover rate – and that can be very detrimental to your organization.   Businesses that thrive are those with employers and managers who are mindful not just of sales but also of the morale of the people.  Don't leave it to chance when you can do something concrete to enhance their work attitude in the new normal.  Let them join this special webinar to give them a stable, positive and happy disposition, and make them more productive.  The best investment you can make today.
GAME PLAN FOR YOUR PEOPLE

YOU AND YOUR SUCCESS
Securing success does not happen overnight. It takes a lot of hard work, commitment and the right attitude. Nowadays it need not be a trial & error phenomenon as there is a proven method of making sure this becomes the right path for your career. On the other hand, the advantage of enhancing work attitude is it is lasting once the positive habit becomes a lifestyle. How you make a difference will outlast you as this affects many others you come in contact with. When we positively impact the life of another, the ripple effect continues.
"ENHANCING WORK ATTITUDE IN THE NEW REALITY"
is a must-take! The Top 3 reasons:
You are best equipped to represent your company and brand with confidence.
You are able to embody, live & project a charismatic image that people will gravitate towards.
You are able to produce results and increase your bottomline.

LEARNING OUTCOMES:
What are soft skills and why does it account for 85% of career success
The 5 Great Reasons Why Happiness Increases Productivity
Identifying the right work attitudes for impact in this new reality
What specific people skills will create distinct advantages for personal and professional success
Define personal goal priorities including motivations for achieving work-life balance
Develop your image strategies that will make you stand out and shine
Adapt using positive coping techniques for an effective WFH set-up
Develop and name at least 3 game plans that will transition participants from feeling defeated to overcomers
.a bonus of one more!
"According to research conducted by Harvard University, the Carnegie Foundation, and Stanford Research Center SOFT SKILLS are responsible for 85% of career successes, while only 15% is attributed to hard skills." 
This "ENHANCING WORK ATTITUDE IN THE NEW REALITY"  is a 3-hour course that will equip participants with the right tools to be the best version of themselves under our new reality, represent their companies with professionalism and pride, and create consistent results with a positive bottomline.
"Like MBA training started a century ago, soft skills training is absolutely necessary for the 21st century companies!" Some soft skills are easily measured and can be tested on standardized exams (Path 1). However, many soft skills are an education of the heart, and not so much the brain; it is about awareness. It is about the amount of exposures (Path 2). Soft skills builds habits. Habits build culture. Culture builds brand.
– IITTI (International Soft Skills Standards & Testing)

COURSE OUTLINE
Section 1. INTRODUCTION
– Welcome Participants
– Course Overview
– Learning Outcomes
Section 2. ALL ABOUT SOFT SKILLS
– What are soft skills & relevant examples
– Why do soft skills account for 85% of career success?
– Embracing your God-given people skills
Section 3. THE BEHAVIOR OF SUCCESS
– Who Am I
– Making Happiness Count
– The attitude of Gratitude & Contentment
Section 4. PERSONAL GROWTH
– Believability & You
– Achieving Work-Life Balance
– Motivation at Present & Reforming the Future
Section 5. OVERCOMING SETBACKS
– Making your WFH Setup Work
– Effective Time Management
– Roadblocks Are Temporary: Learning From Your Weaknesses
Section 6. YOUR PERSONAL GAME PLAN
RESOURE SPEAKER:  MS. CAROLINA TAN, AICI CIP
One-On-One Coach
Group Facilitator
Corporate Image Consultant
Keynote Speaker
Online Trainer
PRC & HLURB Licensed Real Estate Broker
Carolina is a former runway, print & commercial model for projects such as American Standard, Wella International, Sunsilk Taiwan, Coca-Cola Vietnam, Emporio Armani, Louis Vuitton and Mastercard. She co-hosted Philippine celebrity talk show 'Oh No! It's Johnny' from 1997 to 1999. Carol is also a Cum Laude graduate of the Communication Program from the University of Santo Tomas Faculty of Arts & Letters.
Opportunity presented itself as she ventured out into real estate project selling and became a PRC Licensed Real Estate Broker in 2006. Formerly connected with the Antel Group of Companies for ten years, she's now with Megaworld Corporation under the Megaworld Brokers Network from 2017 to present. Carol's extensive travel overseas in Asia, North and South America has helped shape her diplomatic experience as well as her sales work exposure with BMW Philippines from 2005 to 2007 handling the expatriate market. She's an alumna of John Robert Powers International Manila and has been its active consultant at the school for sixteen years. Her areas of expertise evolved through the years to now include face-to-face & online coaching, consulting and soft skills business licensing to qualified clients.
She is a Certified Image Professional (CIP) from the world's leading and largest professional association of personal and corporate image consultants AICI (Association of Image Consultants International). In 2011 ENHANCE YOUR IMAGE Training Consultancy was formally established. She also finds joy in writing and comes up with relevant articles for AICI Global Magazine from 2014 to present.
In 2016 Carolina accomplished another feat being the first image consultant to become the Licensed IITTI Master Instructor, from the Institute of Image Training & Testing International (IITTI) for the Republic of the Philippines. The pioneer corporate batch (Faith In God – RPM Professional & Technical Services Corporation) passed their IITTI Business Level 1 with flying colors last 31st August 2016.
LIMITED SLOTS. Limited slots are available. To avoid last-minute delays and inconveniences, please register at the latest two days or one day before the webinar event. 
REGISTRATION. Please register or be registered by someone else to be able to join our webinars. Webinar access links are strictly sent through email therefore make sure you indicate the right email addresses for the participants. Likewise, please indicate how many participants you wish to include before hitting the REGISTER NOW button.  
CHECK OUT. When you go to the Checkout Page, double-check the number of participants you have to register, if you change your mind or wish to make last-minute adjustments, you may do so but do not forget to update your cart by clicking the UPDATE CART button. Once everything is final, you may now click the PROCEED TO CHECK OUT button. 
BILLING DETAILS AND THE NAMES OF THE PARTICIPANTS. On the upper portion, you have to enter your details (esp. your email address) as the one paying for the registration. Underneath, you have to enter the details (esp. the email addresses) of the participants you wish to join the webinar.
PAYMENT
POWERMAX provides three (3) payment options:
(1) Bank Deposit/Online Bank Transfer
(2) PayPal/Credit or Debit Card Through PayPal
(3) Over The Counter (7 Eleven, Cebuana, etc.) or Web Banking (BPI Online, RCBC Online, Union Bank Online) 
Bank Deposit,  Online Bank Transfer  
If you choose Bank Deposit/Online Bank Transfer, you have to send the proof of payment to info@powermax.ph.
G-Cash
If you choose G-Cash, you have to send the payment to 09776527459.
IMPORTANT:  Proof of payment must be sent to info@powermax.ph. Failure to send the proof of payment to info@powermax.ph means the participants will not receive the webinar links even if the proof of payment is sent to other contact details of Powermax or its representatives (e.g., Facebook, Messenger, Viber, other email addresses, etc.).
Payment Through PayPal
If you choose to pay for your registration using PayPal you may do so. Please take note that PayPal also accepts Debit Cards and Credit Cards bearing the VISA and Mastercard logo. Unlike the Bank Deposit/Online Bank Transfer, the PayPal process automatically updates our system to issue the participants their access to our webinars.
Payment Through Over The Counter (OTC)
You may also pay us through various OTC Over The Counter payment channels:
7 Eleven
Bayad Center
Cebuana Lhuillier
ECPay
LBC
MLhuiller
Robinsons
Palawan pawnshop
SM
RD Pawnshop
RuralNet
Expresspay
If you Checkout using a particular Over The Counter payment channel, our system will send a barcode to your registered email. You can take this barcode, show, and pay over the counter. Please note that if you generate a barcode through 7 Eleven you must pay only through any 7 Eleven branches. When payment is made, proof of payment is sent to your email for payment reference. 
Payment Through Web Banking
Just click the bank of your choice:
BPI Online
RCBC Online
Union Bank Online
WEBINAR ACCESS LINKS.  Once payment is made and verified, we can activate the spot on the webinar then we can send the webinar access links to the email addresses of the participants – this only goes with Bank Deposit/Online Bank Transfer.  However, for payments made using PayPal and OTC, the activation process is automatic. Note that your webinar access link cannot be shared with anyone else.  If you cannot attend the date and time of the webinar kindly advise us at the latest one day ahead. 
POWER WEBINARS. Powermax live webinars are designed to give you an incisive insight into a plethora of interesting and relevant topics using Zoom technology. It aims to uncork the latest updates, best practices, useful strategies, and tactics, and/or practical tips and techniques not just to widen your horizon but also to equip you with the essential knowledge and skills. Hopefully, this will also encourage you to register for the other webinars of Powermax. Just visit our site – www.powermax.ph to see our other webinars.
A PLEASANT WEBINAR EXPERIENCE
To ensure a pleasant webinar experience, we recommend to registrants to:
Download and install the Zoom application beforehand
Ensure that there is a proper internet WIFI connection
Use a working webinar streaming device.
Thank you and enjoy!
Keep safe and God Bless!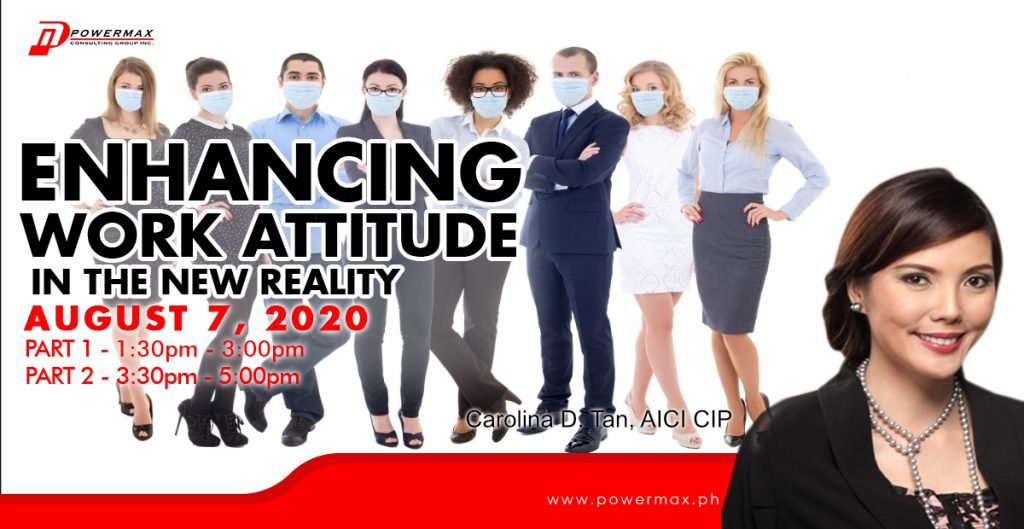 ENHANCING WORK ATTITUDE IN THE NEW REALITY